Color negative film, or color print film, for 35mm film cameras and medium format cameras is still universally used and is most commonly processed using Kodak's C-41 processing techniques. As there are many different color films available for use, much like with black and white film or slide film, it is heavily suggested that you try different brands and types on your own to figure out which film is best for you. The major and common color film brands are Kodak and Fuji, see below for a comparison of various Kodak and Fuji films.
How Color Film Works
Color film consists of an acetate or polyester film base with multiple emulsions coated on the base. Each emulsion layer is only sensitive to specific colors or lights. In the classic example of color sensitivities are red, green, and blue (RGB). The top layer of film is blue sensitive as all silver-based films have some sensitivity to blue light. Beneath the blue layer is green and red sensitive layers. Of course, each film may differ from the classic example and may contain multiple layers sensitive to each color, with each layer having different sensitivities to speed and contrast. Because of the complexity of emulsion layers, color film can be exposed over a wide range of lighting conditions and is much more flexible than black and white or slide films.
When the color film is developed, dye couplers within each red, green, and blue sensitive layer will produce cyan, magenta, and yellow dyes when developed, resulting in an inverse image. When printed to photographic paper the color negative results in the respective colors: cyan to red, magenta to green, and yellow to blue. Here is an example of a color negative with the positive image imposed for comparison.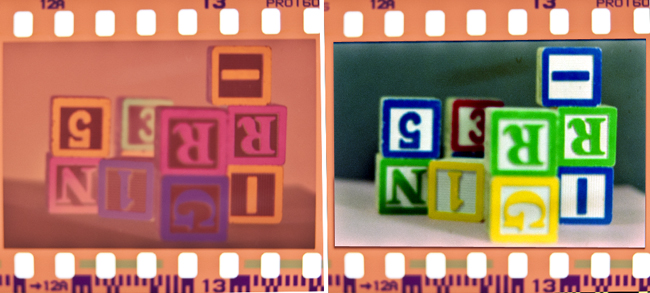 Comparison of Color Film Photography Brands and Types
| | | | | |
| --- | --- | --- | --- | --- |
| Brand | Name | ISO | Grain | Notes |
| Fuji | Reala-100 | 100 | Highly Uniform Fine Grain | Natural color reproduction, sharp results, wide exposures. |
| Kodak | Ultra-100 | 100 | Finer | Vivid color for outdoor use. |
| Fuji | Pro-160S | 160 | Very Fine | Natural colors, smooth tones, very sharp. |
| Kodak | Portra-160 | 160 | Very Fine | Vivid color across the spectrum; used for indoor and outdoor. |
| Fuji | Superia-200 | 200 | Fine | Vivid color across the spectrum with general use. |
| Fuji | Superia-400 | 400 | Finer | General use. |
| Fuji | Pro-400 | 400 | Fine | Superb color with wide exposure latitude. |
| Kodak | Portra-400 | 400 | Fine | Natural color across the spectrum; very flexible. |
| Kodak | Ultra-400 | 400 | Fine | Vivid color for outdoor use. |
| Fuji | Pro-800Z | 800 | Some noticeable grain | Faithful reproductions for low light, wide exposure range. |
| Kodak | Portra-800 | 800 | Some noticeable grain | Vivid color in blue and yellow; can be pushed to ISO 1600. |
| Fuji | Superia-1600 | 1600 | Noticeable Grain | Vibrant and dynamic colors for low-light environments. |